Get A Grip On Your Bucket
BucketGrips, were initially created to address an issue in the gardening world. Utilizing 5-gallon buckets, specifically to grow plants and not being able to tote them around easily when the plant growth exceeded the top of the bucket. This renders the wire handle limited in use or not useable at all.
These patent-pending handles help distribute the weight of the bucket making it easier to carry with 2 hands. Now there are numerous industries utilizing these handles. Carry construction materials, fish, garden supplies, or grains in a 5-gallon bucket without straining to carry. No need to throw away your existing 5-gallon buckets once the wire handle breaks or comes off.
PRODUCT FEATURES
2 handles that easily clip to a 2, 3 or 5-gallon bucket
Designed to help distribute weight for easier carrying
Can remain attached without interfering with a lid or bucket liner
Clip together when not in use for easy storage
Uses: painting, gardening, fishing, construction, storage or anywhere you want to use a bucket without the hassle or strain to carry.
Clip it
Attach grips one at a time by hooking the teeth of the grip to the underside lip of your 2, 3, or 5-gallon bucket.
Buy Now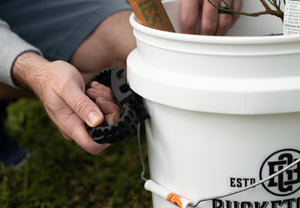 Grip It
Once the teeth have caught the plastic lip of the bucket, gently lift up to lock in place. Be sure to install the second grip directly across from the first grip, having one grip on each side of your bucket.
Buy Now